Children's music videos get noticed by Canadian indie band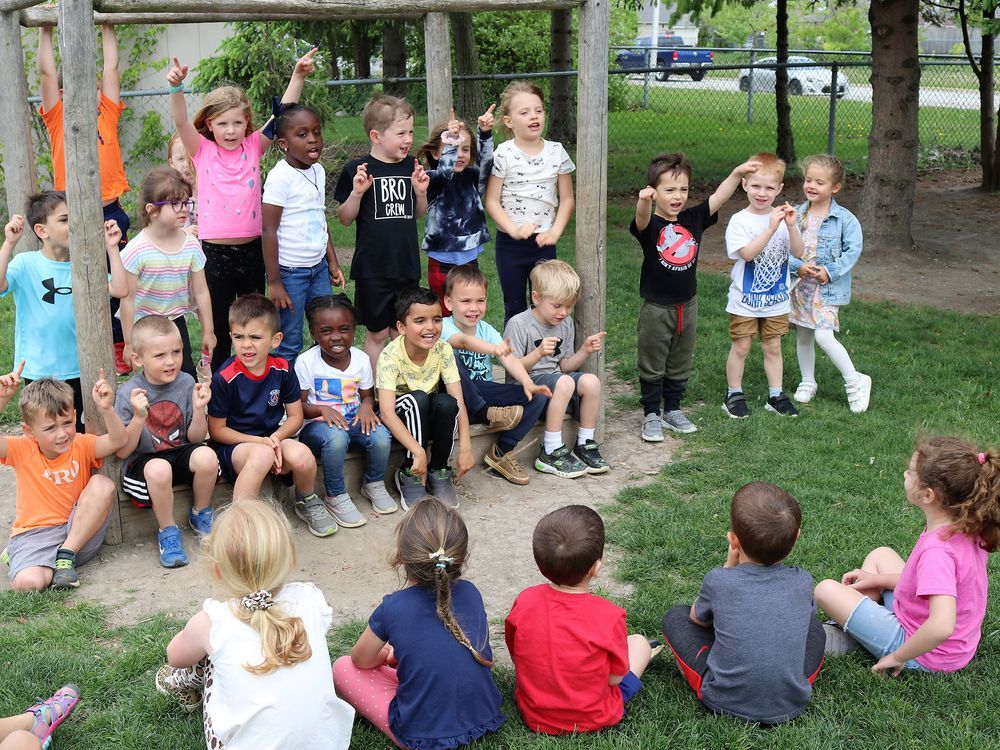 Content of the article
Music videos made by a group of students from St. Anne's, Sacred Heart and St. Patrick's schools have earned praise from a popular Juno-winning Canadian indie band.
Content of the article
Burlington's Walk Off The Earth – currently embarking on a North American tour and soon to arrive in Sarnia as headliners of the Bluewater Health Foundation's Block Party on June 11 – praised the students, who created their own versions of some of the band's popular standards, 'I'll Be There', 'Gang of Rhythm' and 'O Canada'.
Under the tutelage of music teacher Dan Sonier and with the encouragement and assistance of St. Anne's early childhood educator, Vanessa Mina, the students – who range in kindergarten through fifth, seventh and eighth graders from high school – harnessed their considerable musical powers by rehearsing and then performing the songs on stage and then sending them out into the vast world of social media, where they garnered thousands of clicks, likes and views.
"We were in the music room talking about bands and Canadian music, talking about concerts. And I said 'you know who's coming to Sarnia soon? Walk Off The Earth is coming in June," Mina said. "And Dan said 'it's amazing, we should do something to get their attention'."
"Years ago I took an elementary choir…PS 22 Chorus, and this NYC based elementary school music teacher started a fifth grade choir and just raised a ton answers to the point where they performed at the Grammy's and the Oscars. They cover pop-rock music and famous musicians and artists come to the school and collaborate with the kids," Sonier added.
Content of the article
"So I've been following them for a while to get different ideas of what to do in music class, and I've been working with ECE Vanessa for years and she's always up for a project. Then it happened – we were talking about Walk Off The Earth and I was doing a project with some of my older students on Canadian music and then it escalated from there – we thought we'd take some songs back and do it exploding on social media to hopefully get a response from them.
"It also gives kids a good focus, when they're learning a piece of music and there's an end result, a performance or a culminating task, which would be making the videos and sending them out," he said. -he declares.
The students threw themselves into the project with the fervent enthusiasm that only children can muster, Sonier said.
"They were so excited," he said. "I'm all about learning something, playing and then sharing it, so they got used to making plans. We make random phone calls to people; we sing for the people on the street, we share what we learn because that's what musicians do – instead of just learning it for the sake of learning it.
"So we pitched the idea and told them that if (the videos) were good enough, the band could come to our school or send us a message. This learning piece got the kids excited and made them kinda more responsible for doing the best performance possible, and we also had a time restriction," Sonier continued. "But they were right — my seventh and eighth graders (from Sacred Heart) were playing ukuleles and rhythm instruments, they had to choose the instruments they wanted to use to accompany the piece… and the kindergartens were just fantastic, it was an awesome and positive experience in every way.
Content of the article
Kindergarten students in Lynsey Philipsen's JK/SK class at St. Anne were particularly optimistic about the project, Mina said.
"It was so much fun," she said. "The kids loved it and a lot of parents say the kids sang the songs non-stop at home. Sometimes they would start singing it randomly in class and we all got involved.
"They all think the band is so cool because we watched a lot of their videos, and they do cool things with different kinds of instruments," Mina added with a laugh. "There's a video where they completely lost it – one (band member) jumps up and kicks two cymbals in the air, they couldn't get enough of it, they just loved it that."
With the idea hatched in early April and the videos in the bag in mid-May, Mina began posting one video a day within a week to a variety of social media sites – Facebook, Instagram, Twitter, TikTok and YouTube – and the views started crowding.
Parents and relatives immediately fell in love with the videos.
"My parents had tears of joy," kindergartener Hailey O.
Relatives, friends shared the video until it was viewed by thousands.
And then Walk Off The Earth responded on Twitter, which completely floored students, teachers and parents, Mina said.
"They have actually already responded to two videos – the first was a Sacred Heart video where the students were playing their instruments. They were like, 'That's awesome,'" she said. "Afterwards they quoted the video of our little guys on Twitter and said, 'Our hearts are melting…good job kids at St. Anne's School! "."
Content of the article
"We hope for more," Mina continued. "They come here on the 11the and our biggest dream is to be invited on stage, but even a personalized video message would be amazing. But honestly, the recognition we've already gotten from them has been perfect.
Kindergarten participants in the videos have also expressed a desire to meet the band or watch them perform in person when they come to Sarnia. When asked what they would say to the group if they met them, the class offered a number of suggestions.
"You're good at singing," James said.
"We love your videos," Olivia said.
"My favorite video was the one where the guy is kicking both (cymbals)," Jeffery said. "It was awesome."
For Sonier, no matter what happens on June 11, students have learned valuable lessons along the way.
"I think, especially after this crazy time where we couldn't really do a lot of collaborative things like this, now that we can, it's even more exciting for these kids and their families to get back to this routine." normal "to make music," he said. "The fact that we can move around and sing and share in this way is pretty fantastic."
"Now Vanessa and I are reviewing the roster of musicians coming to the Imperial Theater over the next year, so this might be our little challenge as educators," Sonier added. "It all makes the world feel so small too – you can post something there and you realize it can reach so many people around the world. It can also impact so many people, and it is also a great lesson for children.
To see the videos made for Walk Off The Earth, go to Vanessa Mina's YouTube page.