10 music videos to watch to prepare for the Renaissance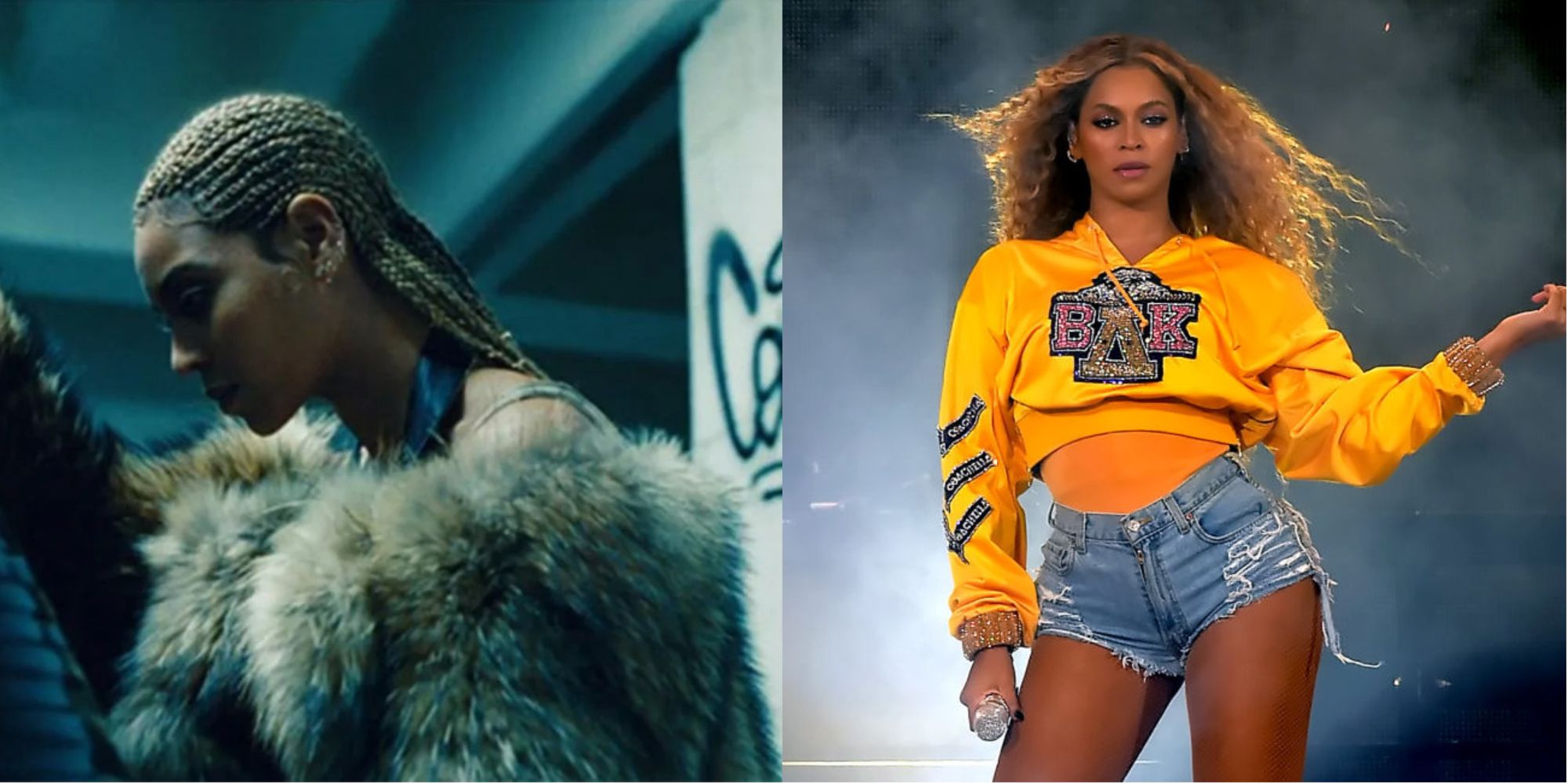 With the recent release of the single "Break my soul"Beyoncé fans got their first taste of the sound and aesthetic of her upcoming studio album Renaissance, his first solo album in six years. His last album, Lemonadewith the hour-long film she released on HBO to accompany the music, was a cultural phenomenon in 2016.
Although Renaissance will be her seventh album, Beyoncé has been busy over the intervening years, recording and releasing a collaborative album with husband Jay-Z as well as curating Disney's soundtrack album. The Lion King remake. More recently, she earned her first Oscar nomination for her original song "Be Alive," which was written for the movie. King Richard. As fans continue to prepare for a real Beyoncé revival, here are ten clips to binge in the meantime!
ten

"Beautiful Liar"
This video of the B'Day was Beyoncé's collaboration with Shakira. "Beautiful Liar" was released on the deluxe edition of the album and featured both singers with their unique vocal styles and impressive dancing skills.
Related: 10 Beyoncé Songs That Would Make Great Movies
"Beautiful Liar" represents a recurring trend in Beyoncé music videos: well-choreographed dance breaks. Rather than relying on visual effects or too many cuts, the video largely sticks to Beyoncé and Shakira's elaborate dance break, which also sounds like Shakira's "Hips Don't Lie."
9

"Make Me Harder"
The clip of "Make me stronger", which was a track from Beyoncé's second studio album B'Day, is a fan favorite. The video is accompanied by the extended mix of the song, which includes an additional segment with another engaging dance break.
For the video, Beyoncé was inspired by the black and white dance sequence from director Bob Fosse's film Sweet Charity. Many shots, costumes and choreography are a tribute to the original film. This certainly isn't Beyoncé's last music video to include subtle homages to Fosse's aesthetic and style.
8

"Rule the world girls)"
"Rule the world girls)" was the lead single from Queen Bey's fourth studio album, aptly titled 4. This album would become a turning point in Beyoncé's already successful career, with her music moving further away from contemporary pop and leaning more towards mainstream R&B.
This song is an anthem of female empowerment and is one of Beyoncé's most performed songs in film and television. The video features the singer among an army of women along with traditional Mozambican choreography from a local dance group called Tofo Tofo.
seven

"Drunk in love"
One of Beyoncé's relatively simplistic music videos was the music video for "Drunk in love," featuring Jay-Z. "Drunk in Love" was the third track from Beyonce's self-titled album, which was released without any promotion or warning on December 13, 2013.
Related: Beyoncé's 10 Best Movies, Ranked According To Rotten Tomatoes
"Drunk in Love" has garnered attention for being one of Beyoncé's most sexually outspoken tracks from this album, but it also has an improvisational quality to it. The video reflects this with Beyoncé and her husband dancing and posing on a beach. The video makes perfect sense given the album's emphasis on the unfiltered and improvisation.
6

"Partition"
Perhaps the most provocative track on Beyoncé's self-titled album was "Partition," and rather than running away from explicit lyrics, the video delves into the song's sexuality. Directed by Jake Nava and partly shot in the Parisian nightclub Crazy Horse, the clip also features Jay-Z in cameo.
Beyoncé commented on the subject depicted in the video in a behind-the-scenes interview about her Youtube channel. She defiantly said, "I wanted to show my body. I wanted to show that you can have a child and you can work hard and you can get your body back." This comment also reflects a recurring theme on this album of maintaining one's sexuality after becoming a parent.
5

"Halo"
Produced and co-written by Ryan Tedder, "Halo" was the fourth single from Beyoncé's third studio album I am… fierce Sashaa double album in which the first half includes more internal and personal ballads while the second half includes flashy and uptempo tracks associated with the singer's stage persona.
The music video for "Halo" focused on the essence of the song as a true love ballad. The video featured actor Michael Ealy, who was recently seen on the reboot of Peacock beautiful air. Many of the shots in this video have become iconic, from dreamlike images of the two lovers to shots of Beyoncé in the dance studio.
4

"Hold on"
Released as a one-hour television special, "Hold on" is the second track from Beyoncé's critically acclaimed album Lemonadewho lost the Grammy Award for Album of the Year to Adele 25. The album has been praised for its complex portrayal of infidelity, generational trauma, and black femininity.
"Hold Up" includes the now famous sequence of Beyoncé in a regal yellow dress smashing cars and cameras with a bat through the streets. In fact, this video was so popular it was memorably parodied by Tituss Burgess in the Netflix comedy. Unbreakable Kimmy Schmidt.
3

"Crazy in Love"
The first single from Beyoncé's debut solo album is still one of her most recognizable songs to this day. "Crazy in Love" was nominated for the Grammy Award for Record of the Year and was one of Beyoncé's first collaborations with Jay-Z.
The video for "Crazy in Love" contains all the classic elements of a Beyoncé video and would set the standard for all her major videos to come. There's his iconic leg in the car in jean shorts, the big fan dance, and the kind of choreography fans could learn on their own by rewatching the video over and over again.
2

"Training"
"Formation" was the first track associated with Beyoncé Lemonade era, and the video was released just before Beyoncé performed the hit at the Superbowl. "Formation" is a trap-influenced song celebrating black southern culture. Her subsequent performance at the Superbowl was widely acclaimed despite controversy from conservatives.
Related: Top 10 Visual Album Movies, According To IMDb
The video for "Formation" is an integral part of the song experience. Directed by Melina Matsoukas, who will direct several episodes of Issa Rae's hit series Insecure, "Formation" includes images of New Orleans plantation homes and Renaissance portraits of black Americans. Most memorable, however, was Beyoncé posing on top of a sinking police car in New Orleans, a reference to both Hurricane Katrina and police brutality.
1

"Single Women (Put a Ring on It)"
There's no doubt that Beyoncé's most popular music video is still "Single Women (Put a Ring on It)" which won the Grammy Award for Song of the Year in 2010. The song is another female empowerment pop record and is memorable on its own, but it was the video that took the song to the next level.
Once again, Beyoncé was inspired by Bob Fosse, borrowing part of the choreography from a scene from Sweet Charity. The black-and-white aesthetic was simple, and much of the video looks like it was shot in one take as Beyonce and two backup dancers perform a lengthy dance sequence that would go on to become one of the earliest dance crazes in the world. YouTube era.
NEXT: 10 Music Documentaries Like Jennifer Lopez's Halftime

Next
10 Biggest Implications Of Thor Love And Thunder's Ending

About the Author